21
ICAR-CIFRI organized Brainstorming on 'Sustainable Fisheries Management of Wetlands'

Gueahati, 2nd Feburary, 2023
On the occasion of the World Wetlands Day (WWD) 2023, ICAR- Central Inland Fisheries Research Institute, Barrackpore organized a brainstorming session on 'Sustainable fisheries management of wetlands' at ICAR-CIFRI Regional Centre, Guwahati on 2 February 2023 in hybrid mode. The theme for the WWD, 2023 'It's time for wetlands restoration'. Stakeholders of floodplain wetlands (beels) from various organizations namely Departments of Fisheries, Govt. of Assam and West Bengal; Assam Fisheries Development Corporation Ltd.; College of Fisheries (AAU), Raha; Assam State Wetland Authority; Gauhati University; National Fisheries Development Board, NERC, Guwahati; Dept. of Environment & Forest, Govt. of Assam; Assam Agribusiness and Rural Transformation Project (APART); WorldFish; Aaranyak (NGO) and progressive beel fishers/ lessees participated in the day-long programme.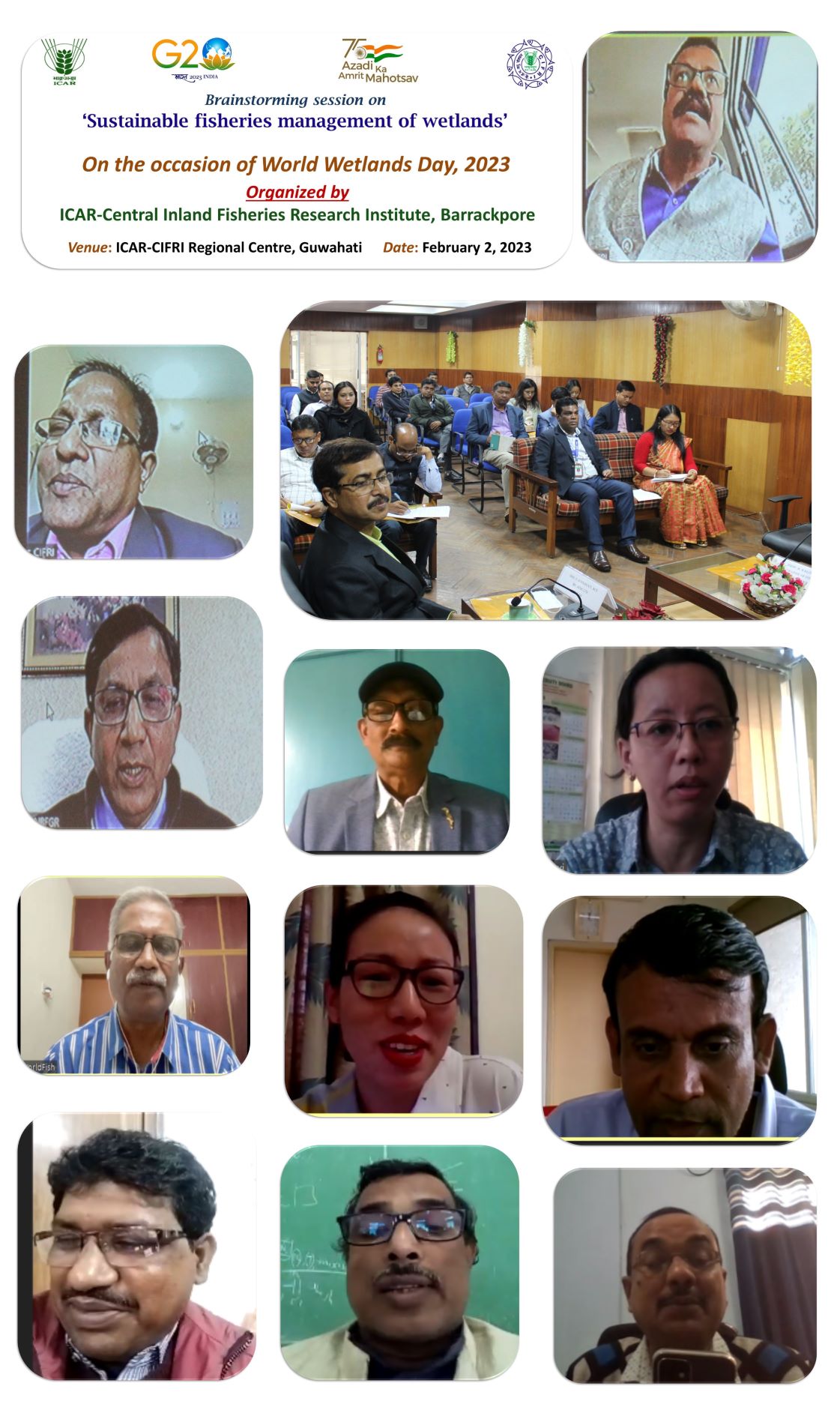 Dr. Dipesh Debnath, Sr. Scientist welcomed the guests and participants present in both offline and online mode and briefed about the session. Dr. B.K. Das, Director, ICAR-CIFRI briefly appraised the goods and services provided by wetlands, which are means of livelihood for local people. He raised concern about many wetlands which are getting disconnected, agricultural run-off and loss of microbial community and species in the system. A strategic plan is needed to look into the issues faced by the wetlands.
Dr. U. K. Sarkar, Director, ICAR-NBFGR, Lucknow stressed on the need to restore wetlands and re-establishment of fish species lost from the wetland. Shri Rakesh Kumar, IAS, Commissioner & Secretary, Fisheries, Govt. of Assam, stressed that clean water should be priority along with wetland conservation and well-being of the fishers.
Shri P. Borkakati, ACS, MD, AFDC Ltd., Assam spoke about the wetlands of Assam and mandate of AFDC Ltd. He mentioned the technological expertise given by ICAR-CIFRI in their developmental projects.
Dr. A. K. Das, Head of Reservoir and Wetland Division, ICAR-CIFRI, Barrackpore suggested that collaborative work should be taken up for conservation of wetland. Dr. B. K. Bhattacharjya, Head, ICAR-CIFRI Regional Centre, Guwahati flagged the major issues concerning conservation and sustainable utilization of floodplain wetland fisheries.
In the technical session, Prof. D. C. Baruah, Tezpur University urged that everyone of us should be responsible for the wetlands and should understand 'What to throw and where to throw garbage?'.
Dr. O. Sunanda Devi from Assam State Biodiversity Board spoke about identifying Biodiversity heritage site so as to conserve some biodiversity rich areas. Mr. Ashim Kr. Borah, Incharge NFDB NERC, Guwahati raised the question whether beel development and conservation can go hand in hand. Ms. Dorothy from NFDB feels that awareness should be given to the local people on wetland degradation and ways to conserve it.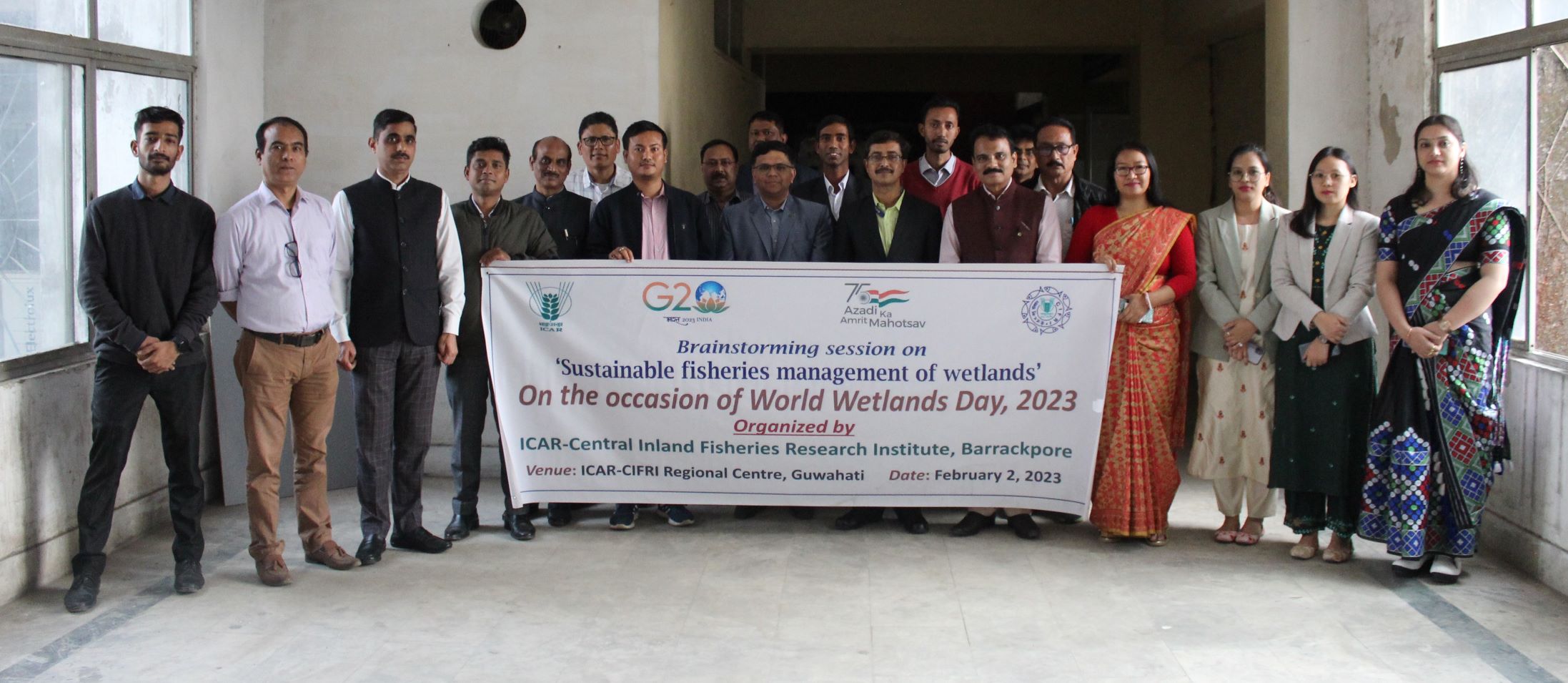 Dr. Dandadhar Sarma, Professor, Gauhati University raised concern about the prized indigenous ornamental fishes available in the wetlands of the region which are being illegally collected and exported. Many of the fish are threatened or endangered or near extinction and need to be conserved. Dr. Rajdeep Dutta, Astt. Prof., College of Fisheries, Raha expressed concerns that many fishes collected from wetland have traces of microplastics.
Representatives from Dept. of Fisheries, Worldfish, APART and Aaranyak (NGO) also appraised the delegates about the work carried out by them related to conservation of wetlands. Scientist and staff of ICAR-CIFRI, RC Guwahati interacted with the delegates and came up with few recommendations from the session. All the delegates agreed on the need for conserving the wetlands for production of various goods (including fishes) and ecological services, conservation of these openwater resources, restoration of degraded wetlands, coordinated effort by all stakeholders as well as awareness creation for wetland conservation/ restoration.