Ranching Of Hilsa Towards Conservation And Re-Establishment In River Ganga: A Mission Mode Approach

Ojha Toli ghat, Sahibganj, 17th February, 2023
ICAR-Central inland Fisheries Research Institute, Barrackpore under the National Mission for Clean Ganga (NMCG) released 1,80,000 numbers of fertilised egg and 3000 hilsa spawn in river Ganga at Ojha Toli ghat, Sahibganj, Jharkhand on 17th Feb. 2023. The major objective of the ranching of fertilised eggs and spawns is to provide the native habitat for better larval survival and growth towards attending adults in its natural ecosystem. Our studies recorded that larval development in the controlled condition is challenging. Therefore, artificial fertilization followed by ranching of fertilized eggs and spawns into the suitable protected site in the river would be an effective strategy towards conservation of the species in river Ganga and also in other river systems. This innovative strategy could also be adopted in other major river systems in India including river Mahanadi, Godavari and Cauvery.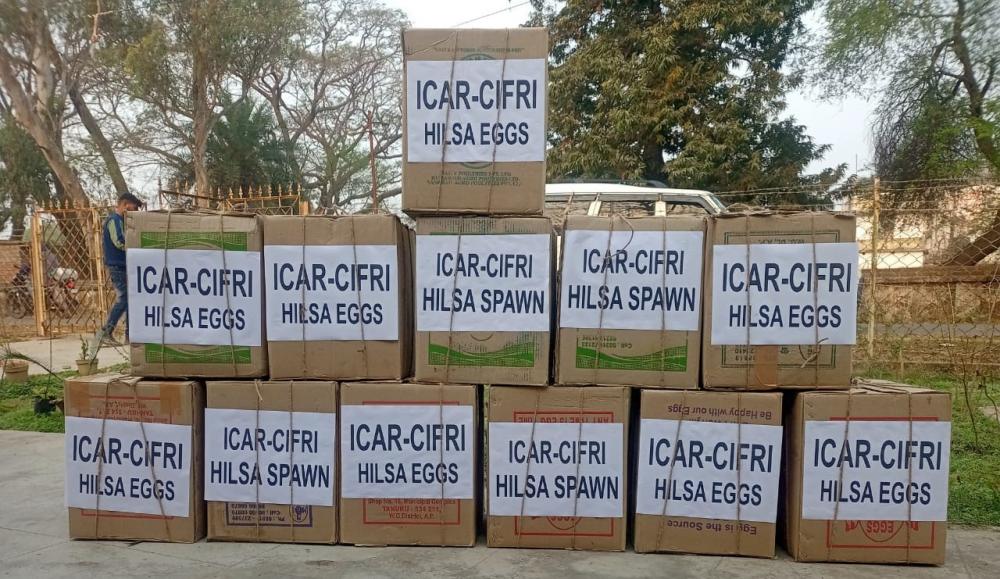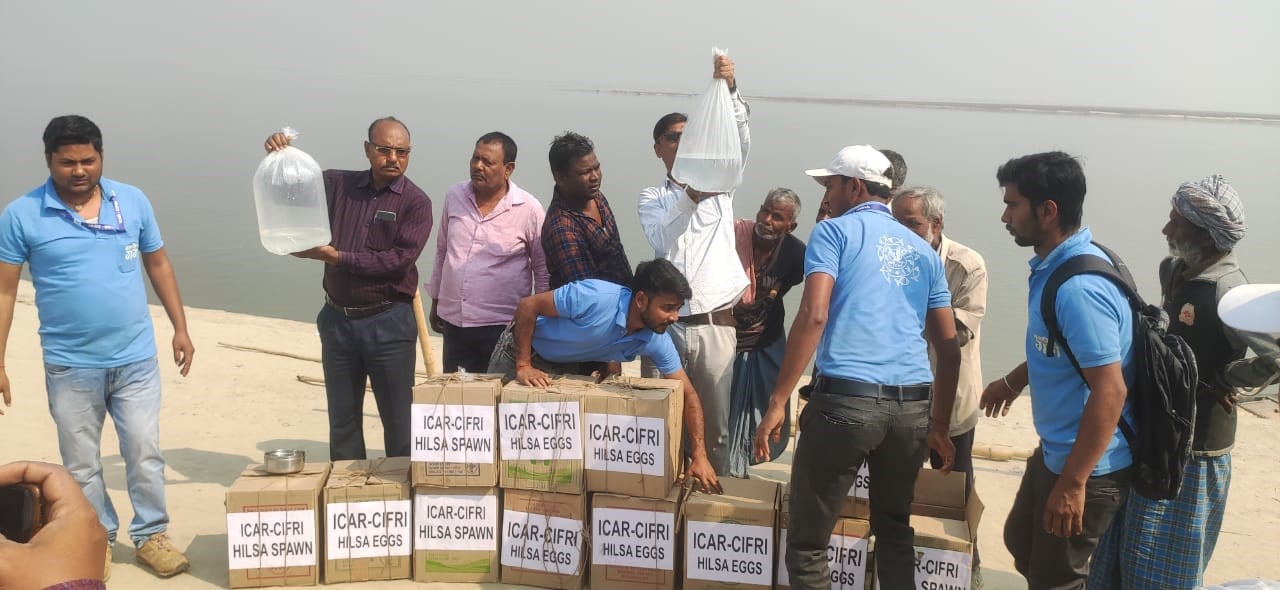 Under the National Mission for Clean Ganga, ICAR-CIFRI has established Hilsa ranching station at Farakka. For the programme, wild brood fish both males and females were collected from river Ganga at Farakka. Artificial fertilisation was carried out at ICAR-CIFRI Hilsa ranching station at Farakka. The fertilised eggs were incubated under the control condition with temperature of 26.1°C. The hatchlings with absorbed yolk sack were fed with natural plankton and artificially grown chlorella. The spawns with active swimming behaviour were packed in an oxygen container and transported to Sahibganj, Jharkhand. Simultaneously, the fertilised eggs were also packed in oxygen carrying packets and transported to the ranching site during the early morning. Both fertilised eggs and spawn were ranched at the suitable protected sites in the river Ganga at Saibganj. The programme was carried out in association with Jharkhand Eastern Gangetic Fisherman cooperative Society Limited and Department of Fisheries, Jharkhand. On the occasion, representatives from ICAR-CIFRI, JEGFCSL and DoF, Jharkhand and more than 50 fishermen were participated.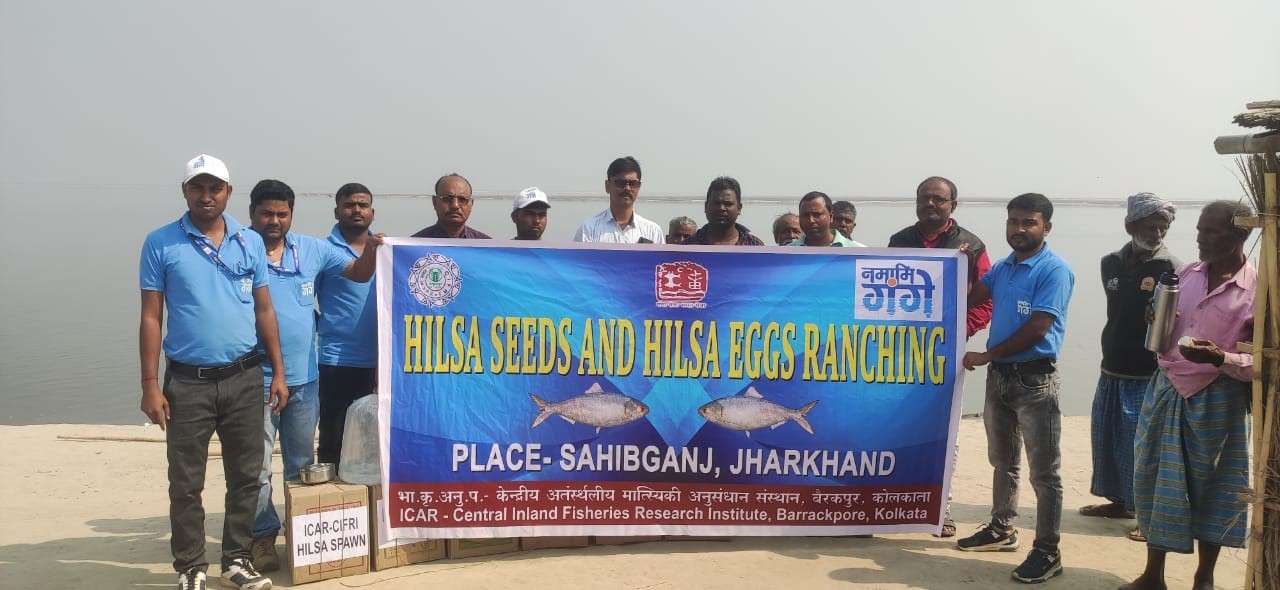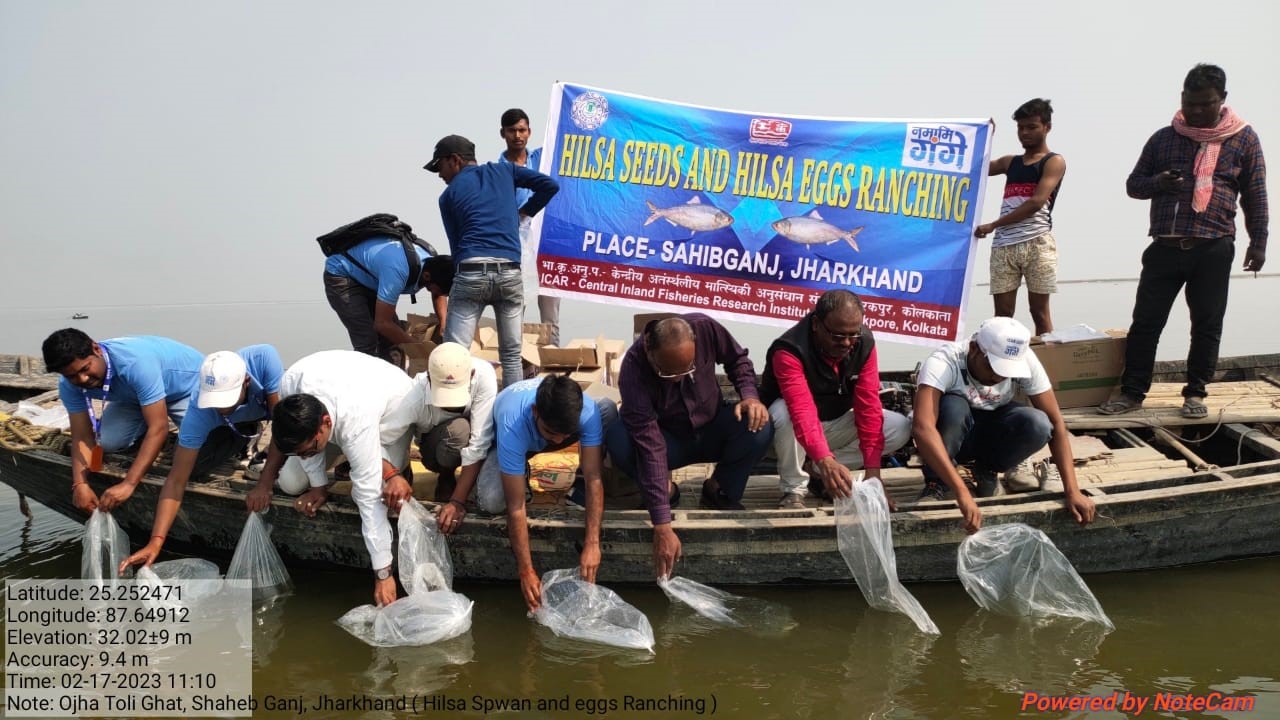 All the participants were expressed their happiness after visualizing the hilsa spawn and ranching programme. This ranching programme of hilsa spawn and fertilised eggs would not only increase the native germplasm but also help towards re-establishment Hilsa fisheries in its native habitat i.e in the middle stretch of the river Ganga, which is known to be the lost fish species after construction of Farakka barrage in River Ganga. The programme was carried out under the overall supervision of Dr. B.K.Das, Director & PI and co-ordinated by the Drs. A. K.Sahoo, D.K.Meena, S.Kumar, M. Ramteke and assisted by project research staffs.