ICAR-CIFRI, Prayagraj Conducted Ranching Program under "NMCG" at Sangam Nose, Prayagraj, Uttar Pradesh.

Prayagraj, 26th February, 2023
For conservation and restoration of fishes of the Ganga river 10,000 (Ten thousand) IMC fingerlings were released into the Ganga river at Sangam Nose, Prayagraj by ICAR-Central Inland Fisheries Research Institute, Prayagraj. Advance size fingerlings of Indian Major Carp viz. Catla, Rohu, and Mrigal were ranched in the presence of Dr. Dilip Kumar, Advisor (FAO), and Dr. Sandeep Behera, Senior Consultant Biodiversity, NMCG, New Delhi in the ranching programme.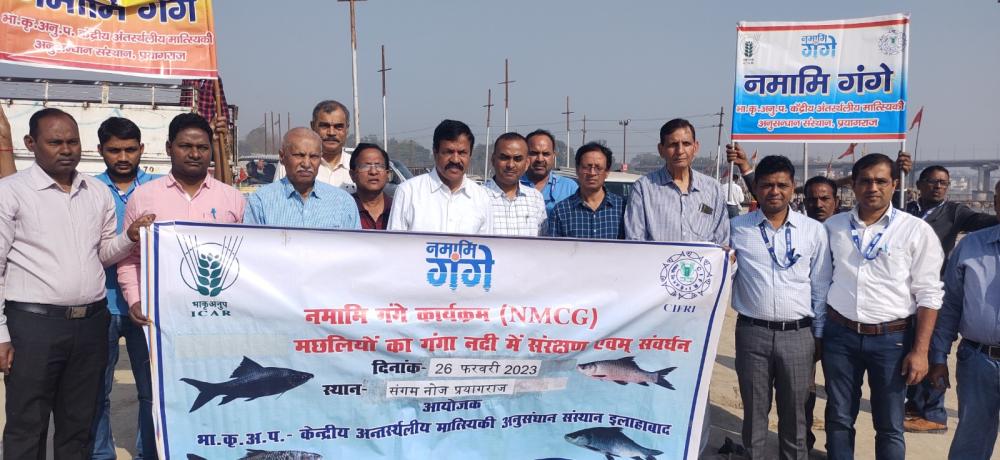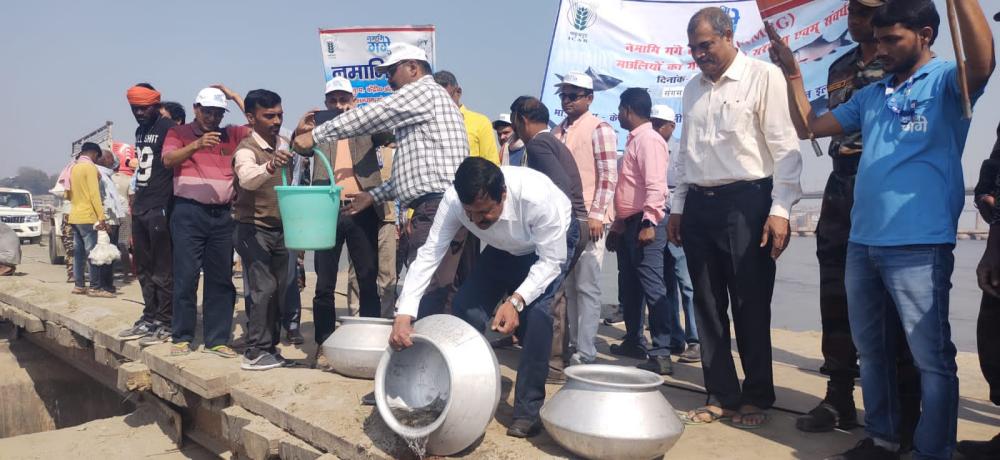 The event was organized under the National Mission for Clean Ganga (NMCG) project. Dr. B.K. Das, Director of the institute informed the audience about the river Ganga and fishes of river and its importance. The chief guest of the occasion Dr. Dilip Kumar, while addressing the function, explained the importance of the river Ganga for human civilisation and called for keeping it clean. Dr. Sandeep Behera briefed about the importance of Namami Gange programme for Ganga River. On this occasion, Prof. S. K. Srivastava, Vice Chancellor, NGB (DU) also addressed the people and urged to save the Ganga River. Some cast nets were distributed among the fishermen residing on the bank of Ganga and Yamuna River.
The program was attended by the pilgrims, students, fishermen from nearby villages, fish traders, and local people living on the banks of Ganga. At the end of the program, Dr. Dharm Nath Jha, Senior Scientist and head of the Centre, while expressing his vote of thanks, assured that with the participation of the society for successfully achieving the objectives of this project. Other Scientists, officers, research scholars, etc of ICAR-CIFRI actively participated in the program and addressed the gathering.