ICAR-CIFRI organized Institute Industry Interface Meet on Waste to Wealth Products

Barrackpore, 15st March, 2023
ICAR-Central Inland Fisheries Research Institute organized one day Institute Industry Interface Meet on Waste to Wealth products on 15 March 2023 keeping in mind the objective of ICAR, to reach to the farmers, entrepreneurs and industries for a greater outcome of the developed silkworm pupae-based fish feed.
The meeting was inaugurated with auspicious lighting of lamp by Dr. B. K. Das, Director, ICAR-CIFRI and Dr. K. Satyanarayana Director, CSB-Central Tasar Silk Research and Training Institute, Ranchi and Industry representatives.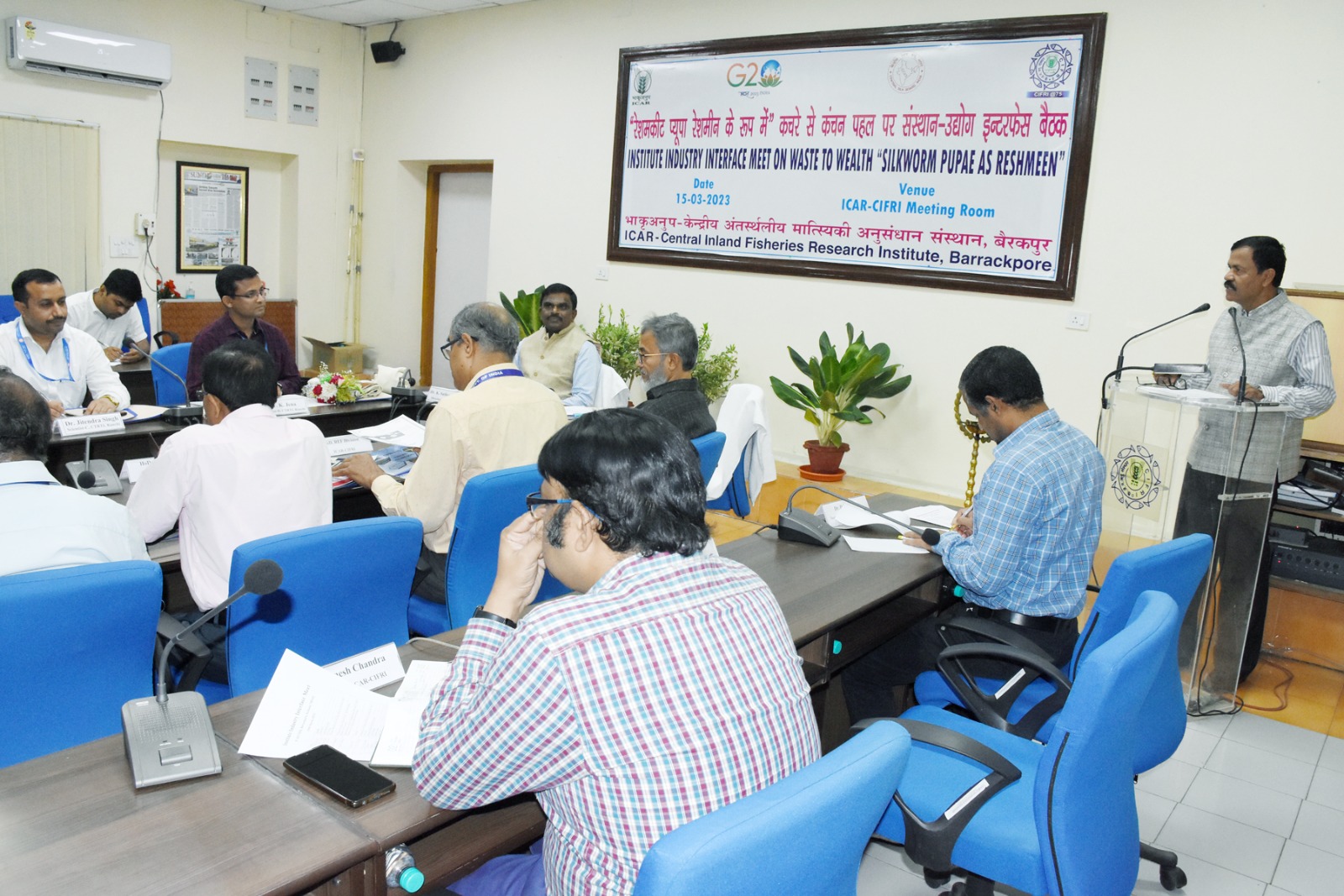 Dr. B. K. Das, Director, ICAR-CIFRI in his inaugural address emphasized that India is the largest producer of Inland fisheries. Fish production from Inland waters experiencing galloping growth (10.14%) in the recent past. The increasing trend fish production has generated a great demand for fish feed in inland fisheries and aquaculture sector. The institute has been researching since decades following Sustainability Mantra of Waste to wealth approach to develop fish feeds from non-conventional, agro-industrial wastes, and insect-based meal. The institute has developed CIFRI Cagegrow and BSF floating fish feed utilising waste form brewery industry and black soldier fly. He said that ICAR-CIFRI in collaboration with Central silk board utilized the silkworm pupae meal for development of fish feed focusing the common freshwater cultivable species under project funded by CTRTI, Ranchi on "Utilization and diversification of silkworm pupae products for human & animal consumption and composting". Institute has developed waste to wealth feeds for all life stages viz.fry, fingerling, juvenile and grow-out stages with variable feed sizes (1, 2, 3 and 4 mm pellet size) utilizing silk worm pupae meal.
Dr. K. Satyanarana, Director, CSB-CTRTI, Ranchi in his address said that CIFRI has worked on the development of bye product from mulberry and tasar silk worm pupae with our institute and developed four fish feed for different stages of fish. He said that the raw material is available in plenty in south, east and north east part of India. CTRTI is also working on other byproducts like oil for industrial use from pupae waste.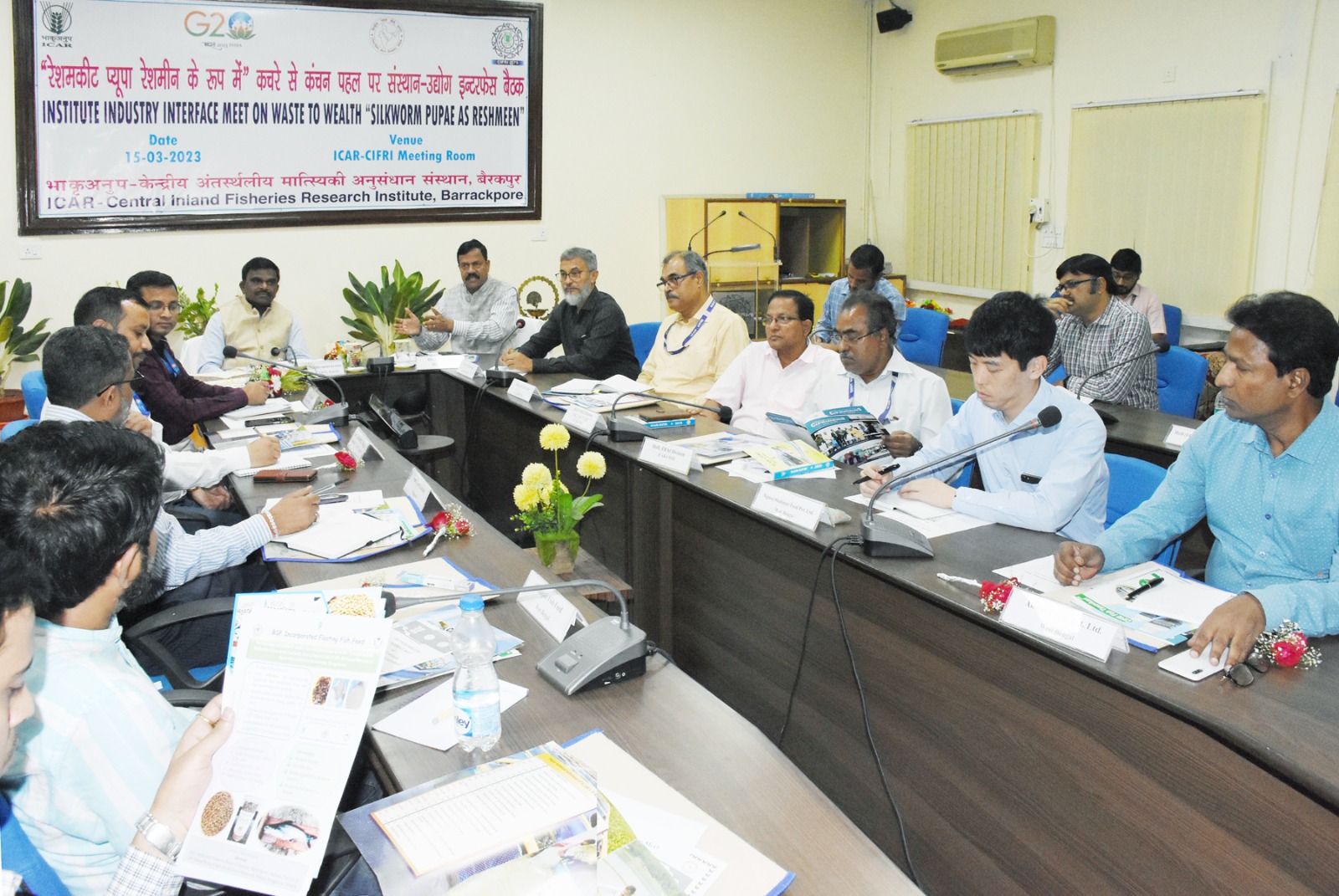 Dr. B. K. Das, Director presented before the industry representatives' details of fish feed Reshmeen, and also shared the results of comparative multilocation, multicultural system and combination feed of different types of silkworm pupae meal-based fish feed. He expressed his concern about the non-availability of conventional feed ingredients and the rationale and scope of using silkworm pupae as a prospective alternative to fish meal. During the interactive session, representative from Avanti feeds, Deepak Next gen feeds, Anupam Feeds, ABIS feeds have asked various question related to the silk worm pupae-based fish feed which was satisfactorily answered by the inventor team. In response to the concern, Dr. Satyanarayana stated that the silkworm pupae meal is free of any pesticidal application and other chemical contaminants during the silk production. And also he mentioned that silkworm pupae can sustainably be maintained as raw material for fish feed industry deploying cluster based approach. Thus, silk worm pupae meal can be designated as Green fish feed ingredient for feed preparation.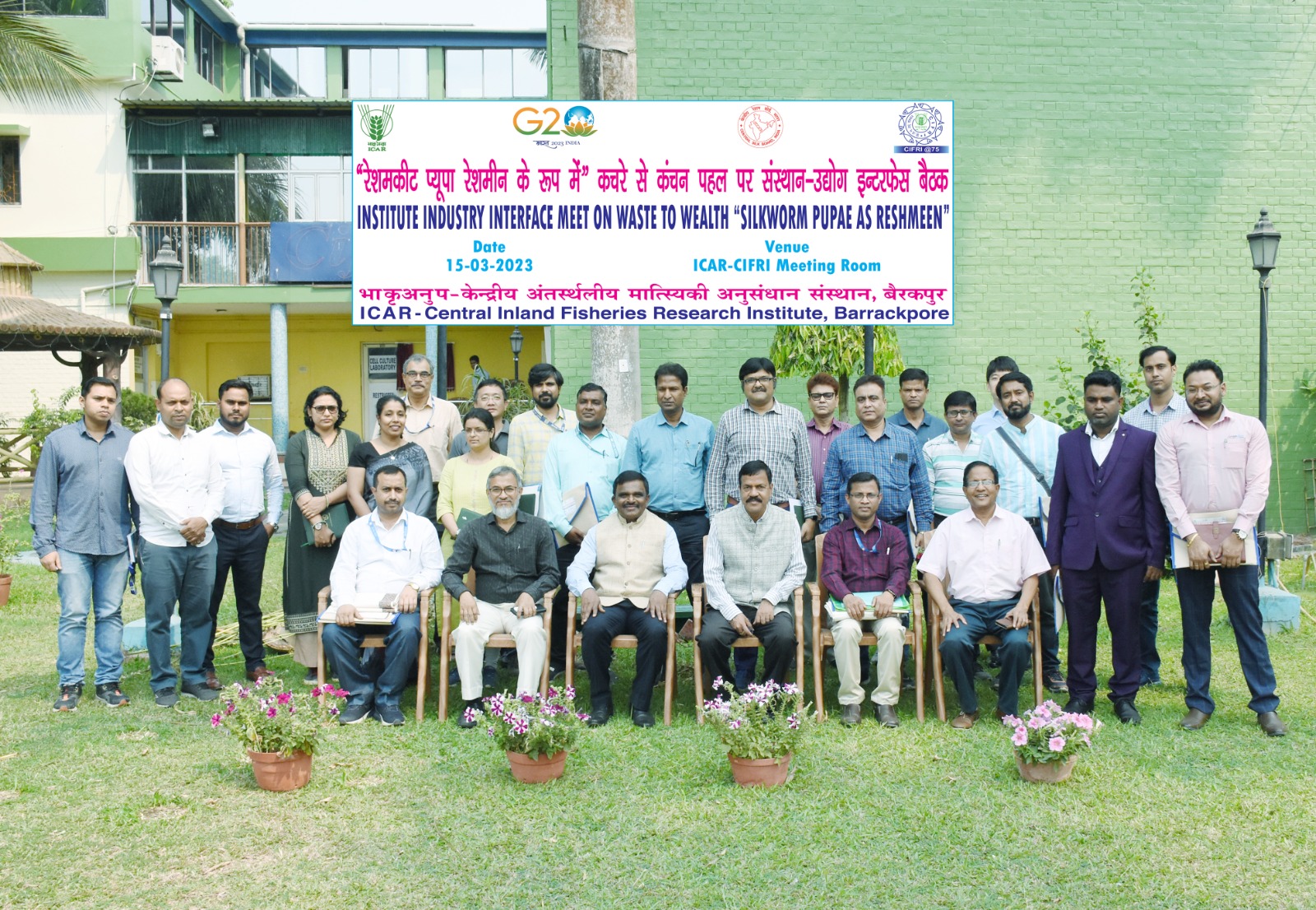 Fifty participants including representative from ten fish feed industries including, Avanti Feed Pvt. Ltd., Anmol Feed, ABIS group, Gitanjali Feeds Ltd., Nextgen feed Pvt. Ltd. etc., of Andhra Pradesh, West Bengal and Odisha along with entrepreneur, scientists of ICAR-CIFRI and Scientists of CSB-CTRTI attended the meeting. The vote of thanks was proposed by Dr. M. A. Hassan, Head of Division, FEM division.
The programme was coordinated by Drs. D. K. Meena, K. Jena, G. Chandra, and J. Singh with the support rendered by the technical staff, ancillary staff of the institute and research scholars.