ICAR-CIFRI organized a training programme for fisheries officials of NER on enclosure culture at Guwahati during November 8-10, 2023

Guwahati, 10 th November, 2023
The ICAR-Central Inland Fisheries Research Institute (CIFRI), Barrackpore has organized a 3-day training programme on 'Enclosure culture in inland openwaters for production enhancement' in its Guwahati Regional Centre during Nov. 8-10, 2023. This is the first of a series of training programmes planned by the Institute to train officials of the departments of fisheries of Northeastern states on sustainable fisheries management of reservoirs, wetlands, rivers and other openwaterbodies of the region. These training programmes are being sponsored by the National Fisheries Development Board (NFDB), Hyderabad. Through this training programme, ICAR-CIFRI willdisseminate updated technical knowledge generated by the Institute through its research and outreach activities in inland openwater fisheries.The inaugural session of the training programme was conducted on Nov. 8, 2023.The training programme was attended by 26 fisheries officials from different NE states (Assam, Meghalaya, Manipur, Sikkim, Tripura), IIT Guwahati, Cachar College Silchar and Kolong-Kopili (NGO), Bogibari, Assam.Dr. Sona Yengkokpam, Senior Scientist ICAR-CIFRI RC, Guwahati & Course Coordinator informed the house that the training programme will cover various aspects of inland fisheries.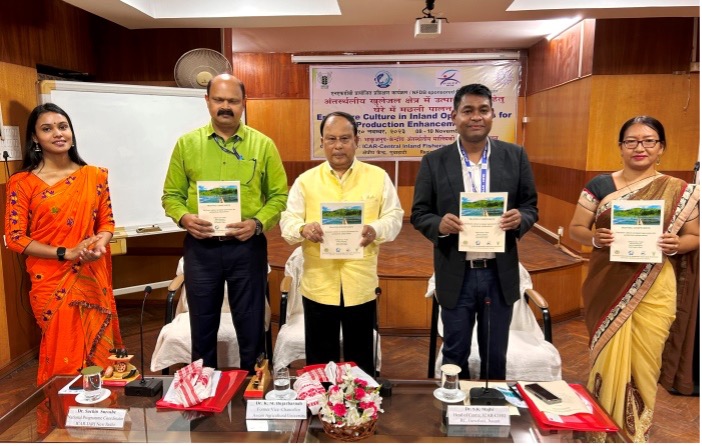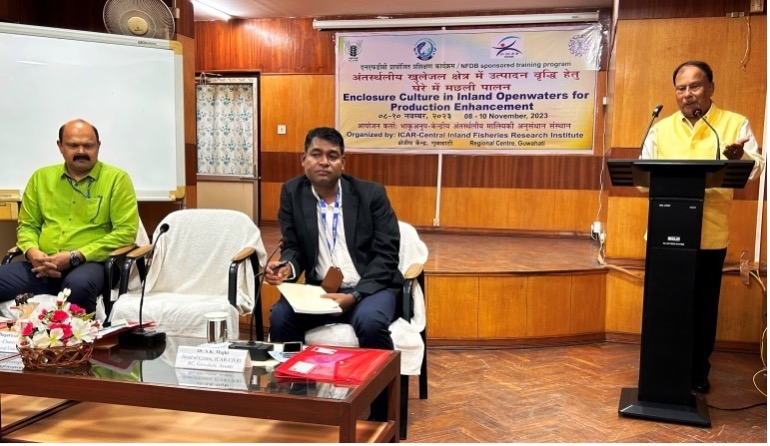 Dr. S. K. Majhi, Head, ICAR-CIFRI RC, Guwahati welcomed Dr. K. M. Bujarbaruah, Former Vice-Chancellor of Assam Agricultural University, Jorhat; Dr. SachinSuroshe, National Programme Coordinator, Honey Bee, ICAR-IARI, New Delhi; participants from different NE states and all others present. He stated that the present fish production from the NE Region is 5.6 lakh tonnes even though the production potential is much higher. He urged the participants to interact with the resource persons during the training programme.
Dr. SachinSuroshestated that many species of plants and animals including fishes are getting extinct because of habitat destruction and other factors. Conservation of natural habitats and sustainable utilization is a must for future. He advised the trainees to learn from the resource persons and work for fisheries development in the region.
Dr. K. M. Bujarbaruahreleased the compendium of training lectures. He statedthat the growth of the fisheries sector in India has been stupendous. The present fish production of the countryis 16.25 million tonnes of which NE is producing only 0.6 million tonnes despite having considerable fisheries resources in the form of rivers, floodplain wetlands, ponds, lakes and derelict water bodies. Assam has shown tremendous growth in fisheries in recent years. Meghalaya has also taken initiatives to create 10,000 ponds under its aquaculture mission.There has been paradigm change in fish production from marine to inland fisheries.The share of fish production from inland fisheries in total production has increased from 38% to 70% over the years. The Govt. of India has recently started 'SagarParikrama' scheme to improve marine fisheries and PMMSY scheme for providing support to inland fisheries. Small and marginal (artisanal) are given due importance of late.The United Nations has declared 2022 as the International Year of Artisanal Fisheries and Aquaculture.Dr. K. M. Bujarbaruah discussed problems faced by openwater fisheries as well as the need to increase fish production from the NE Region through improved technologies and policy support. He informed that enclosure culture was tried in NER with limited success. Cage culture technology was attempted by the ICAR RC for NEH Region in Umiam reservoir way back in 1982-83.The reasons for low adoption of the technology should be studied and the technology improved further, if needed. He stated that most of the people of the NE region are fish eaters. Fish have many health benefits hence people are shifting to fish and many are interested to take up new aquaculture technologies like Recirculatory Aquaculture System (RAS),biofloctechnology and aquaponics. He opined that RAS technology needs to be validated and propagated. Biofloc has been taken to the field but there are certain issues that need to be addressed before it becomes successful. Data on all these technologies need to be collected and analyzed. Aquaponics is another technology which has high potential.Soil of swampshas high carbon content and can be used to improve soil health. He stressed the need for use of artificial intelligence in agriculture and fisheries as more and more people are adopting AI and IT technologies for commercial farming.He felt that there is need to provide technological and policy support to double fish production from the NE region.Dr. A.K. Yadav, Senior Scientist and Course Coordinator proposed the vote of thanks.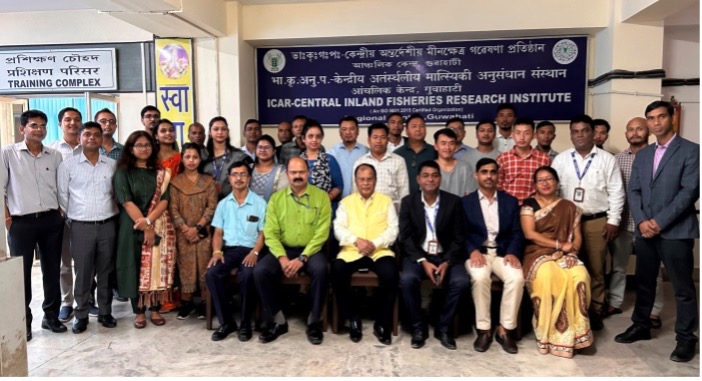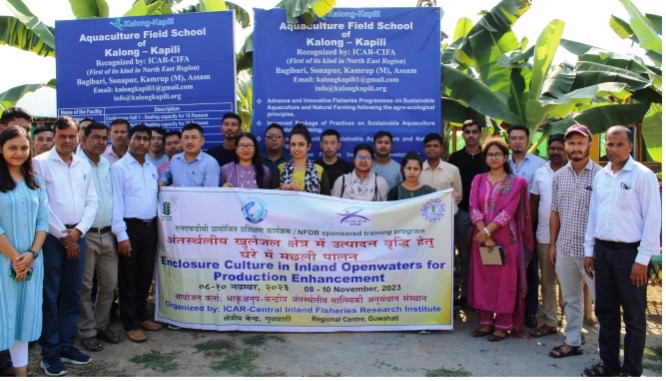 The valedictory session of the training programme was held on 10.11.23. The programme was graced by Dr. B.N. Saikia, Dean, CVSc, AAU, Khanapara. Dr. S.K. Majhi, Head, ICAR-CIFRI Regional Centre, Guwahati welcomed the Chief Guest. He expressed that the training programme must have been useful. India is now the most populated country in the world. Inland openwater resources are plenty in the NEH region, from which fish production enhancement is possible through implementation of management guidelines and technologies developed by ICAR-CIFRI. Dr. Sona Yengkokpam, Senior Scientist presented the training report. One participant from Tripura Mr. Rejoice expressed his happiness about the content of the training programme, and told that new knowledge has been learnt. Another participant Ms. Chayakina Das from Assam expressed that basic and applied aspects of fisheries and aquaculture were discussed in the training programme, which were very enriching. Certificates and training compendium were distributed among the participants by the Chief Guest and Head of Centre. Dr. B.N. Saikia, Dean, CVSc, Khanapara in his speech, congratulated the participants for successful completion of the training programme and ICAR-CIFRI. Dr. Saikia emphasized that fisheries sector has been growing at higher rate compared to other agricultural sectors. He expressed that potential of fisheries sector in NE is higher than the present productivity. Time has come when consumers are seeking for quality fish. The presence of polyunsaturated fatty acids (PUFA) in fish meat makes it a high quality food. Technology-led development of the sector is need of the hour through production to consumption food chain. Fish nutrition and pathology are important areas in which research must be carried out in collaborative mode.Dr. A.K. Yadav, Senior Scientist and Course Coordinator proposed the vote of thanks for the valedictory session also.